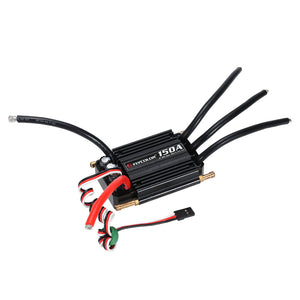 Flycolor 150 Amp ESC
 
150 Amp ESC for boats.
Works great for our 21FE V2, or any of the P Limited classes!

With Built-in switching BEC, and lower power dissipation, this ESC features: Low-voltage cut-off protection
Over-heat protection
Throttle signal loss protection
Start mode can be set, throttle response is fast and it has very smooth speed control linearity.
Over heat protection: If ESC temperature is over 212F, output power will automatically be reduced. When it's lower than 175F output power will return to normal.
This ESC Supports setting with program box or transmitter
Specifications: Constant current: 150A
Burst current: 300A (5S)
5.5V/5A linear mode BEC
Input volt: 2S-6S LiPo Battery
Max voltage: 22.2V
Best for boats under 40 inches
Includes ESC with 5.5mm female connectors soldered.