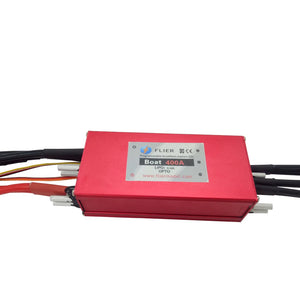 flier 400
Waterproof brushless ESC 16S 400A for RC boat
Feature:
llatest design for more efficient water cooling structure.
lThe firmware is upgraded recently .
lTwo way communication while connecting it with computer.
lFirmware can be upgraded by user.
lMotor wire can be checked while Connecting the power battery.
lSimply set function value by Prog-Box or by PC via USB link wire.
lLi-MH/Li-Po,Ne-Cd/Ne-mH,LiFe battery can be use.
lEnables setting the voltage per cell for the point at which the controller's cut off circuitry engages.Li-MH/Li-Po from 2.0-3.6V,Ne-Cd/Ne-.4-1.0V,LiFe from2.2-2.8V
lReverse function. the delay time of reverse is adjustable
lThe power of the motor forward/ reverse can be set.
lAutomatically detection the throttle route or can be set a fixed number by manual operation.
lAuto cut off the power within 3 seconds if no radio signs.
Timing setting may be adjusted (0°-30°) to suit the motor type